Fashion jewelry has become a go-to choice for style-conscious individuals seeking affordable elegance and versatility. In this blog, we unravel the allure of fashion jewelry and the impact it has on personal style, allowing everyone to express their unique fashion sensibilities.
NECKLACES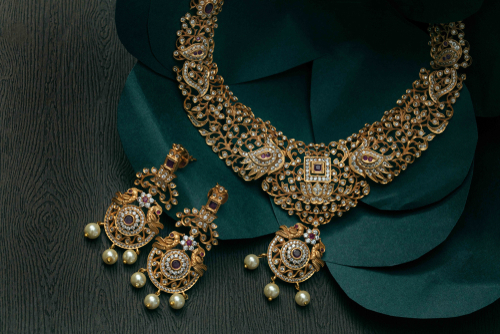 Necklaces are versatile accessories that enhance any outfit, catering to various styles and occasions. Consider the event, theme, and expectations to select the ideal necklace, whether you prefer a delicate or bold look. This thoughtful approach ensures a stunning and fitting complement to your ensemble.
Indian wedding: It is advisable to opt for a timeless and elegant style. Explore various options of necklaces for women or necklace sets, such as those embellished with pearls or chokers.
Office: We advise choosing a necklace set that will last a long time and is comfortable enough These necklaces should be understated and have a strong impact. Something like the Golden Alloy Necklace from Fashion Frill would be a simple yet elegant option to wear to the office.
Family functions: As part of our Indian culture, we often participate in numerous family functions and celebrations throughout the year. During these events, we suggest selecting necklaces that offer a perfect balance of bling and sparkle. These are moments when you can freely experiment or go all out with your necklace sets, and for the same, we recommend you try Sukkhi.
Since ancient times, males have worn earrings as displays of pride, prosperity, and prestige. They were later adapted by ladies as ornamental or purely decorative accessories to accentuate their beauty. Earrings have changed over the years in terms of fashions, shapes, and the significance they have for women. Earrings can enhance one's look and accentuate facial features, From studs to hoops and danglers, Chandbalis & Jhumkas even types have a wide range of designs from modern to traditional. Gold Earrings for a regal experience, diamond earrings for lavish beauty, and oxidized metals for total aesthetics. Pearl earrings in drop and threader.
RINGS
Rings have evolved in their design, symbolism, and meaning, but they continue to hold significance as cherished accessories and symbols of various commitments and beliefs.
Engagement Rings & Couple R: typically given as a symbol of commitment and love when proposing marriage. Engagement rings come in various styles, including solitaire, halo, three-stone, and vintage-inspired designs.
Wedding Rings/Bands: represent the union and commitment between partners. Wedding bands are often made of precious metals like gold or platinum and can be plain or adorned with diamonds or other gemstones.
Eternity Rings: are typically given on special occasions, These rings are characterized by a continuous line of gemstones, usually diamonds, that wrap around the entire band. Eternity rings symbolize everlasting love and commitment.
Birthstone Rings: Birthstone rings are personalized rings that feature the gemstone associated with an individual's birth month. These rings can be worn as a representation of one's birth or as a meaningful and personalized piece of jewelry.
Cocktail Rings: Cocktail rings are large, statement rings that are often worn during formal or social gatherings. They feature a bold design and are typically adorned with colorful gemstones or intricate detailing.
The history of Indian toe rings can be traced back to ancient India. The custom of wearing toe rings is believed to have originated in the Vedic period, around 1500-800 BCE. Toe rings are called Bichiya in Hindi, Mettelu in Telugu, Metti in Tamil & Kalungura in Kannada Toe rings are still worn by married women as a symbol of their marital status and femininity. In Hinduism, it is believed that the toe ring is worn to honor Lord Vishnu and his consort, Goddess Lakshmi.
According to Ayurveda, wearing toe rings on specific points of the feet can have health benefits. It is believed that toe rings help regulate the menstrual cycle, improve fertility, and enhance overall well-being. The rings are usually made of silver, which is considered to have cooling properties.
MANGALSUTRA
It also symbolizes the union of two souls (husband and wife) and protects them from all the evil in the world. Hence, to safeguard her married life and also the life of her husband, a Hindu married woman has to wear Mangalsutra. It is made out of gold and black beads, for the latest and trendy designs of Mangalsutra one can browse the brand Jewar Mandi on Snapdeal.
PENDANT
A pendant is more than just a piece of jewelry. It is a symbol of personal identity, cultural heritage, and artistic expression. One of the most fascinating aspects of pendants is their diversity. They come in different shapes, sizes, materials, and styles. Some pendants are simple and minimalistic, while others are elaborate and ornate. Some pendants are worn for religious or spiritual purposes, while others are purely decorative or symbolic.