Every day, sellers on Snapdeal are creating their own stories of success, freedom, and hope.
Freedom to grow
Freedom to pursue their passion
Freedom to give the best to their families
Freedom from worrying about tomorrow
This independence day we bring to you the stories of our sellers whose journey is an inspiration for many.
Dr. A. P. J. Abdul Kalam famously said, "You have to dream before your dreams can come true." Neha Jaiswal from Mumbai never stopped dreaming and made her passion for quality cosmetics into a thriving business. From days, when it was hard for her family to find ways to earn a meal, she is now doing a business of over Rs 32 Lakh in a month from Snapdeal. Neha started her business in partnership with her younger sister Pooja and listed on Snapdeal in Jan 2018. They started the business operating from home. Today they have an office and a warehouse with a packaging team of 6 people.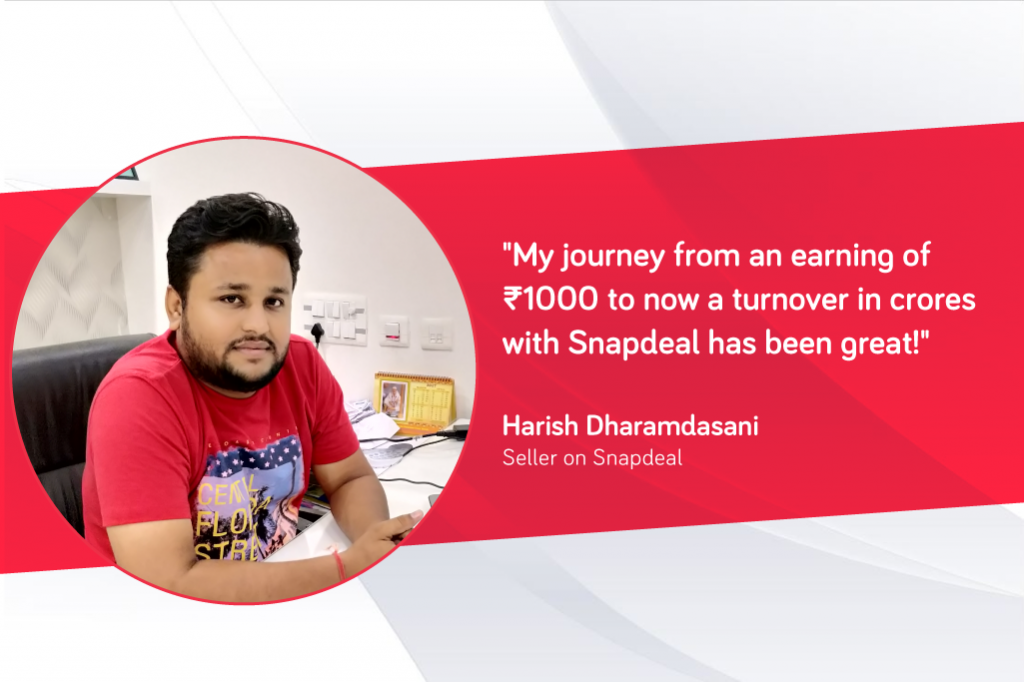 Harish started as a sales professional with a salary of Rs 1,000. He then started his own business and joined Snapdeal as a seller in 2015.  Once his products went online, he started getting 10-12 orders a day and moved to 1500 daily orders within the first 6 months. His popular units get 200-300 orders within a few hours. Today, he is successfully running a multi-crore business.
Similarly, Nitish Bhatia from New Delhi started sales in 2015 and within 3 months started getting 300 orders a day. Nitish says, "My first income on Snapdeal was around Rs 5000. As the business grew steadily, in the first six months I was able to buy gold bangles for my mother. Within 1.5 years, I have been able to buy my parents a big 3 bedroom house and a car."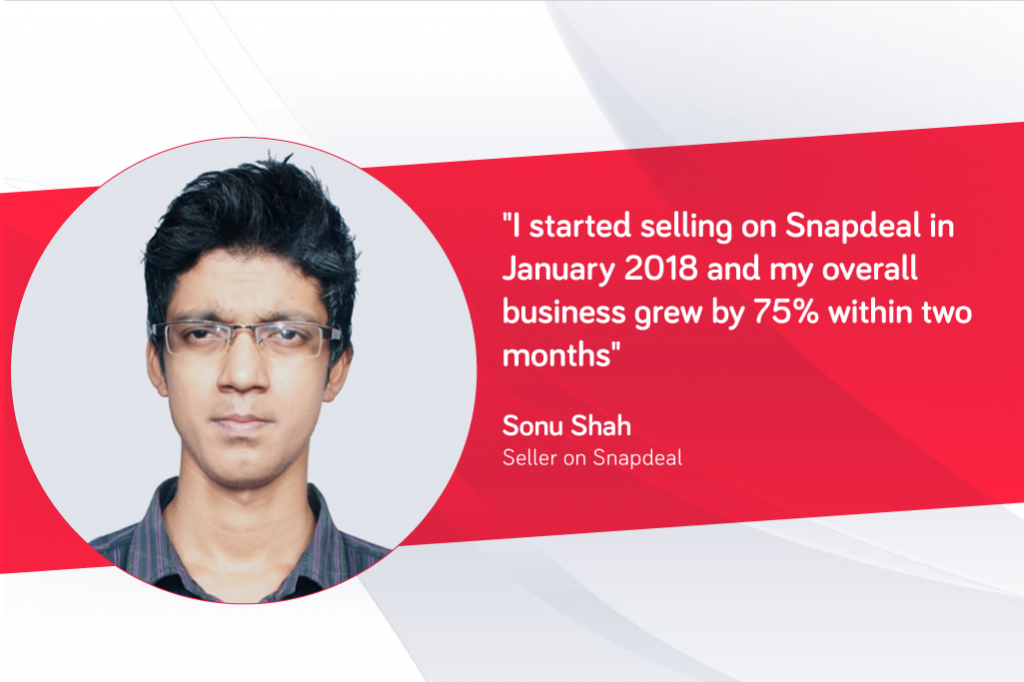 The success of sellers on Snapdeal has not just been restricted to those who've registered earlier. Sonu Shah, a seller from the fashion vertical registered in January 2018.  He was selling 500+ units by the end of the first month. This grew to more than 2,500 units in the next couple of months. According to Sonu, "The extensive reach of Snapdeal enables us to overcome all geographic limitations. We have more than 50 workers now with 15 people dedicatedly managing the online business."
There are many businesses across India who have benefitted immensely by selling on Snapdeal. There are offline business owners who've used the power of Snapdeal to reach out to more customers across India.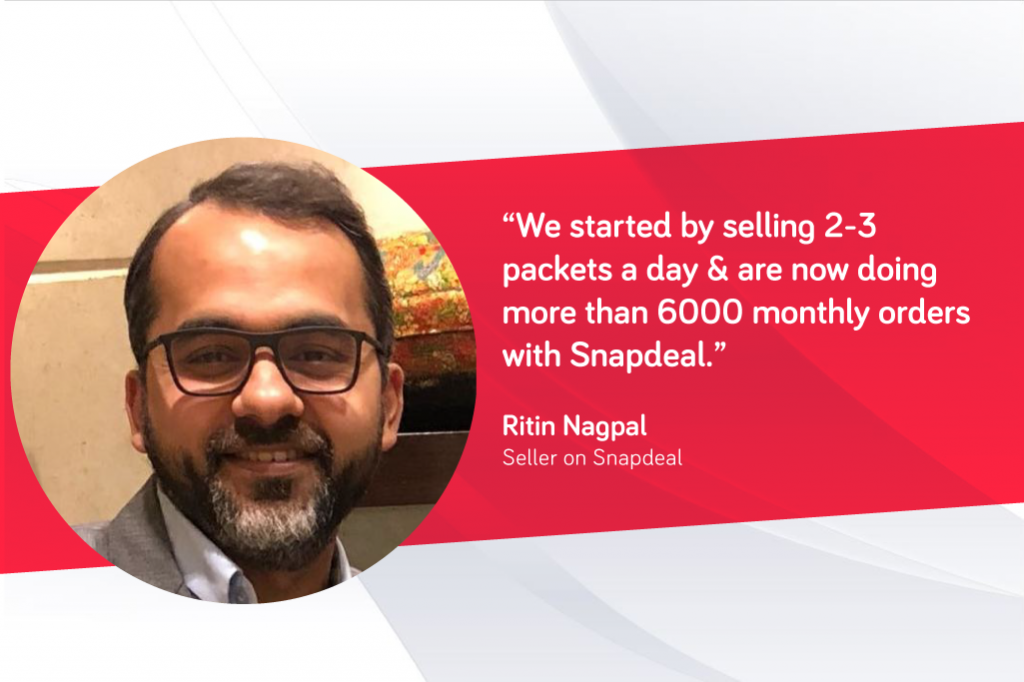 Ritin Nagpal took over his family's dry fruits business that was set up in Jammu in 1979. It was a 100% exports business till 2002. As he took on the reigns of the Business, he wanted to do something different to take the company to new heights. He started selling on Snapdea in 2016 and initially did 2-3 packets a day.  Today, more than 60% of their online sales come from Snapdeal. According to Ritin, "Snapdeal's seller portal is the easiest to understand and operate. The staff has been able to learn it quickly. The portal is transparent and has all the information to know the exact status of all payments."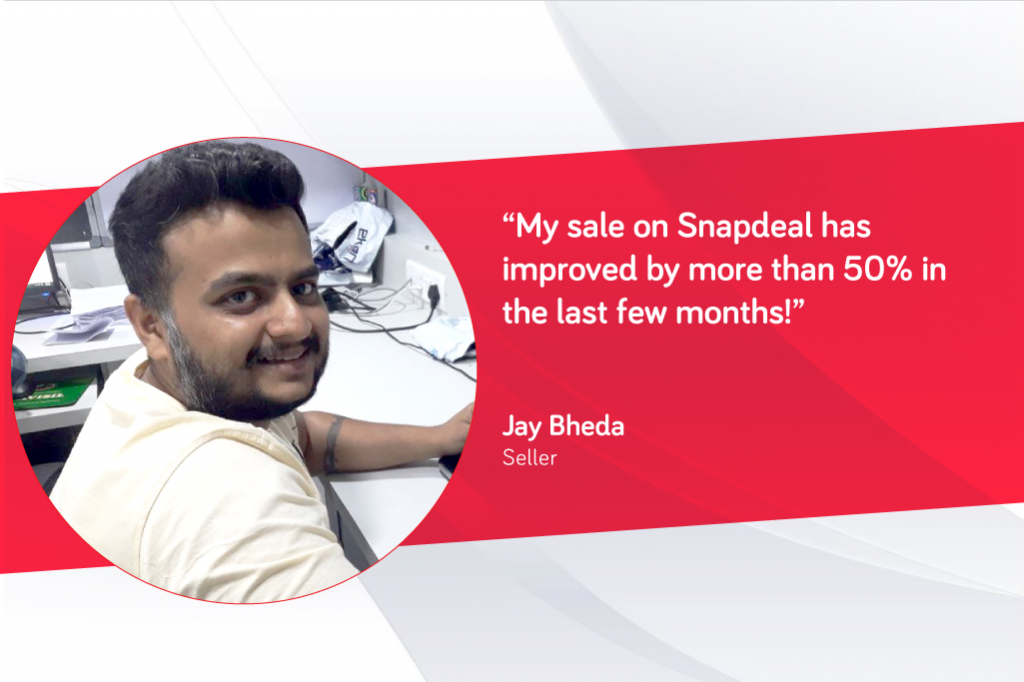 Jay Bheeda from Mumbai also witnessed a growth of more than 50% in his business from Snapdeal in the last 6 months. He says, "Snapdeal has always given me payments on time – the date mentioned in the panel is when I receive my payments." According to him, "The main advantage of selling on Snapdeal is the direct communication with the account management teams. I can safely say that my business has improved thanks in large part to the support I get from them."
The story of every seller on Snapdeal is unique, but what is common is their entrepreneurial spirit, drive, and the passion to succeed. Pratibha Luthra's from New Delhi started her business in 2017 and listed 50 products on Snapdeal. She started with a small investment of Rs. 1.5 lakh and worked on increasing her business. Now she's doing a business of Rs 10 – 12 Lakhs per month. According to her, "I work with other portals as well, and we get payments weekly, i.e. four times a month. Snapdeal also used to do the same. But now, Snapdeal gives payments regularly every day – from Monday to Friday."
It's heartening and humbling to hear the story of Pratibha Luthra, Jay Bheeda, Ritin Nagpal, Sonu Shan, and thousands of such sellers across India, who are not just the breadwinners of their family but also the backbone of an India. They embody the spirit of a new India, embracing the future with hope and confidence.
Our beloved Tricolor flutters a little bit more proudly with the energy of their success.
Happy Independence Day, India!