Perseverance, hard work, and commitment towards passion make a perfect recipe for success. In this post we bring to you the inspiring story of Mr. Manu Pathania, a seller on Snappdeal. In spite of being in a well paid steady job, he decided to pursue his passion for business by entering a category that was traditionally unexplored and brought it online along with his younger brother to unlock its full potential.  A recent recipient of the Snapdeal Seller Excellence Gold Award, his story is one of ambition, and being on the path to achievement.
We wanted to build a Brand that would be our identity
I was recruited on-campus by one of the leading MNC IT firms in my final semester of B. Tech in 2006.  As the years rolled by, life had become comfortable with a well-paying job. Nothing seemed to be amiss, except for that spark.  I explored pursuing post graduation in the UK but realized I was not ready financially. There was an ardent desire to do something more meaningful in life.  As I probed deeper into the why's and why not's of building my own business, the thrill to venture the unknown became an adrenaline rush.  In 2015, along with my younger brother, we decided to take the plunge and build something.  We discovered an opportunity in e-commerce in the women lingerie and nightwear segment. We worked hard to understand the category and developed a strong network of partners, vendors and service providers along the way. I invested some capital and imported the first batch of products from China to understand the quality standards better. We started by selling on our own website. The numbers looked promising and we knew we could make this big.  Over the year, we started to work with other fashion portals as well but found comfort with only a couple. Snapdeal proved to be the most effective amongst all of them.
Snapdeal has been one of the most promising E-commerce business partners
On Snapdeal, we are finding high customer traction. We saw the potential and were able to unlock the value hidden in the category by providing a secure, trustworthy and robust platform for us to reach out to our customers. The high rate of conversions across Tier 2 and 3 towns and cities have enabled us to get a strong foothold in the market.
Technology at Snapdeal is agile and helps us keep pace with new age product innovations
The analytics help us plan promotions and forecast sales. Snapdeal portal is the simplest and most intuitive to work on. The entire process from uploading the products, to promotions, to pricing, to brand positioning is seamless. They not only help us understand the market and buying trends better but also empower us with the technology to manage our business better. The recently launched advertising platform is powerful for businesses like ours.  Snapdeal has a seamless communication process. While the portal is equipped with all FAQs, the ease of communication helps us stay connected with the business team real time.
Our Business has grown by 3x in the last one year
At Snapdeal, the prompt and transparent payment cycles have been very helpful for us to manage our working capital. Within the first year of our partnership with Snapdeal, our business grew by 500%.  We have been on a steady growth trajectory since then.  Our business grew by almost 3x in the last year. We have always aspired to build a brand that wins over a loyal set of customers. In Snapdeal we have found a business partner who is committed to building a Business that respects quality and long-term success.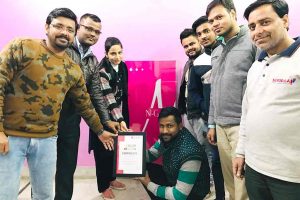 Snapdeal Seller Excellence Gold Award is an attestation of our ambition and our commitment 
We were recently awarded the Snapdeal Seller Excellence Gold award for our performance in Quarter 2. This recognition means a lot to me and my team who has worked hard in the last 2 years to build and take our brand N-Gal to new growth trajectories. This is an attestation of our ambition and our commitment towards our brand. We feel proud when businesses inspire trust and confidence in what we do when they notice the framed certificate in the office. My journey as an entrepreneur would have been incomplete without Snapdeal.  Our brand N-Gal Women Lingerie & Fashion Apparels is popular in the country and our endeavor is to take it international too.