"But, who buys from Snapdeal?"
  Written by Kunal Bahl (Co-Founder & CEO), Snapdeal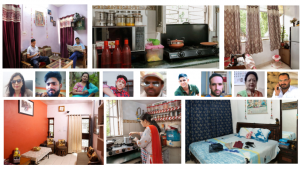 4 years and 4 months ago, we started on the Snapdeal 2.0 journey. It's been an exciting journey with many learnings and many wins.
That said, sometimes I do observe social media users commenting about Snapdeal, and asking in amusement or befuddlement, "But, who buys from Snapdeal?"
It's a fair question from an audience that may not be in our core target group, hence I thought it would be good to answer this. There are many significant brands in India that are not in the urban sub-consciousness and we do realise that we happen to be one of them.
Snapdeal's journey is about Bharat's growing aspirations. It is about an incredibly diverse society that is rapidly embracing a digital tomorrow – buying through their phones, sharing on Whatsapp and entertaining themselves through YouTube and short video apps. It is about a new Bharat, where instead of waiting for their parents to take them shopping, the children are helping their parents navigate the endless aisles online. It is also about families – in cities big and small – sharing the same dreams and finding that it is possible to live them – on their terms. Some of the top towns and cities where our customers live are Malapuram, Cuddapah, Salem, Kalyan, Silchar, Nagaon, Sangli, among others.
Building Snapdeal 2.0 has meant creating all the required underlying capabilities to serve value-savvy users, staying within the guardrails of good economics and moving fast with bold and decisive steps. Here's how we did it and some of our learnings along the way:
Sharp focus on a core audience: As the e-commerce market has expanded, each segment has become significant enough to enable the creation of large businesses. But to achieve that, one must know and understand their core audience. Majority of our customers have a household income of up to Rs. 40,000/month. They mostly live in Tier 2 cities and beyond. Most of them commute using public transport or a two-wheeler. Their aspirations are no longer limited by how much they earn.
The fact that 50% of Indian households fall in the approx Rs. 2-5 lac per annum income segment is what makes the value lifestyle retail market in India at USD 88 Bn (INR 6.16 Lakh Crores) a massive opportunity. Only 17% of this is served by organised brick & mortar channels and only 8% by e-commerce channels, leaving 75% of this huge market in the unorganised space. This sector is witnessing a multi-decade transition towards organised retail and e-commerce, away from unorganised offline formats. The existing value players like D'Mart, VMart, Vishal, Max, Zudio and others have shown how to lead this.
Post-2017 and the 4G revolution, which brought 700 mn+ mobile users online, the e-commerce market has expanded significantly. No longer does the adage that in India you either are an everything store or you shouldn't exist, hold true. Each segment is now large enough for pursuit by focused players. Like Snapdeal's focus on value, Nykaa, Lenskart, FirstCry and others are showing how to build out verticals by focusing on large categories.
Value is not the same as cheap: Value is integral to Indian ethos. But is lower the price, more the value? Well, no. A value-conscious buyer is not looking for cheap products, instead they are looking for good quality products at affordable prices. They prefer to not pay for brand premiums, but for what matters to them – good fit with their functional needs, trendy looks and styling, quality that lasts. A product that meets all these needs and is priced right is value.
Making strategic choices: As part of our 2.0 plans, the focus on serving the value-conscious mega segment has been clear. We made bold, decisive choices to give shape to this. Our sharp & exclusive focus on the value segment is evident from the fact that more than 95% of the products sold on Snapdeal are below Rs 1000. The average selling price on Snapdeal is below Rs 500.
Disrupting ourselves for Enhancing Quality: Offering consistently good quality at affordable prices is constant hard work. That is because the supply in this affordable price segment comes across a spectrum of quality, varying from seller to seller. How to get the quality filter right? Simply ask the buyers.
When a customer gets an order of a t-shirt that she doesn't like the quality of, she doesn't blame the label. She holds Snapdeal responsible because the customer expected us to do the diligence of ensuring that only good quality products are available on our platform.
While we constantly remove poorly rated products from the platform, we stepped up this effort in 2019 and 2020 and churned out nearly 60% of our catalog and replaced it with good, higher quality selection. We took this bold and aggressive call because we wanted to reset our platform's quality bar at a much higher level and that would not happen with incremental changes. While this did impact our volumes in the near term, the impact on quality ratings was equally clear. In the last three and a half years, the average product rating by our users has gone up from 3.2 to 3.9 (out of 5) and our rating on Google Play Store has crossed 4.5 (out of 5).
The pandemic disrupted FY'21, however it allowed us to further improve our merchandise quality. We today work more closely with a set of nearly 1000 suppliers, who account for 80% of our sales, but with no single supplier accounting for more than 2% of our sales. Given the relatively unpredictable quality of merchandise of the unbranded assortment in India, our view is that controlling the quality of the suppliers can only be possible if the platform doesn't optimise for the number of suppliers but for the quality of each of the suppliers.
Power Brands for enhanced experience: As we pegged Snapdeal to higher quality standards, we realised the need for a structured program to organise value merchandise. Under Power Brands, we have built 13 brands across popular categories like apparel, fashion accessories, footwear, home and kitchen, health and wellness, personal grooming, etc. While these brands have been developed by Snapdeal, they are licensed to sellers and manufacturers, who sell under the brand names and own and manage their inventories, hence offering great quality products at affordable prices.
UniMove for lower supply chain costs: With more than 70% of our users from outside Tier 2 towns buying affordable goods from us, delivering efficiently and economically across the span and depth of Bharat requires thoughtful and innovative e-commerce logistics solutions.
UniMove is our logistics platform that optimally allocates 3PLs to specific legs of the delivery journey. It gives us better visibility over the availability, allocation and utilisation of logistics resources by providing data such as detailed geo-location tracking, digital run sheets etc. It has also allowed us to forge closer working relationships with local and regional logistics players who are intimately familiar with the intricacies and nuances of the areas they serve.
From an operational perspective, UniMove offers control & service quality similar to that of a captive logistics model, but without the capex and high overheads associated with the same. Our efficient management of fulfilment costs is one big reason for us being consistently unit-economics positive for the last three and a half years while having a coverage that extends to 96% of India's pin codes.
Follow the customer through Omnichannel: More than 90% of India's value-conscious buyers shop offline – in their neighbourhood markets, bazaars and in bigger cities close by. In the next five years, while online value buying for affordable lifestyle products may cross 20%, the balance 80% buying will likely still be offline.
Consumers need the assurance of touch & feel in their initial phase of this online exploration, so that they can buy with confidence and comfort. Given that a large number of buyers are in the process of integrating both offline & online shopping as part of their purchases, it makes imminent sense to be available at both digital and physical touch-points so that users are supported in this journey of exploration and adopting new, hybrid habits. This is why we will be taking an omni-channel approach going forward as well. Unicommerce, the retail SaaS leader, which is a Snapdeal subsidiary, will be powering the software for this omni-channel endeavour.
Unit Economics as the North Star: One of the tenets of Snapdeal 2.0 is its focus on positive unit economics. High margin categories such as fashion, home & kitchen and beauty & personal care, account for 90% of our sales and enable us to operate with positive contribution margins. We have been positive contribution margin for the past more than 3 ½ financial years, something that startles most observers, given the unit economics loss-led growth that seems to be the norm.
Letting the storm pass: As the impact of pandemic played out in 2020, we took a decision to be conservative from a marketing perspective due to the unpredictability of the market. High cost-consciousness saw our adj. EBITDA loss in FY 21 go down to our lowest ever levels to below Rs 100 crores for the entire year. While the optimised spends and disruptions on account of large-scale and localised lockdowns saw our operational revenues drop, once the initial disruptions settled, we prepared for the days when the storm would have passed, which has led to rapid growth in volumes thereafter.
Setting the compass for growth: The pandemic-impacted FY 2021 provided us the opportunity to refine our focus on quality, pricing and communication for our customers.
After a volatile FY 21, we started FY 22 on a resurgent note, with significantly improved quality, investments in marketing, a new brand campaign and a refreshed app experience. And this has reflected in our results. Our delivered orders have grown more than 35% quarter-on-quarter for the last two quarters. Our share of orders from the app has gone up from 44% to 74%. The percentage of product returns has dropped to below 5.5% of delivered units, nearly at half the levels from a couple of years ago.
Continuing to invest behind this growth, we took two significant decisions for better consumer pricing – adjusted our gross margins downwards to ensure better pricing for customers and offered free shipping from April 2021 onwards, which has led to an enhancement of customer value proposition, word of mouth driven virality and higher volumes. All this while ensuring positive unit economics.
That brings me back to the opening question: "But, who buys from Snapdeal?"
Since April 2018 more than 50 million unique customers have shopped one or more times on Snapdeal. 75%+ of our business comes from repeat customers. More than 70% of our sales are from beyond Tier 2 towns and cities and 99% of our orders come via mobile phones. And we cover 96% of the pin codes in the country. Our users browse and connect with us in seven languages, beyond Hindi and English.
Our lens on Indian retail is value-centric. Our consumers aren't looking for brands. They are looking for the combination of the right product + right price. We are excited about continuing to build a complete ecosystem around value commerce, where we can serve users wherever they are on their offline to online journeys.
A new Bharat has emerged. Confident in its choices, clear about its desires. And convinced that its time is now.
So, in response to the original question:
Bharat buys from Snapdeal and we are thrilled to be playing a part in realising Bharat's growing aspirations.